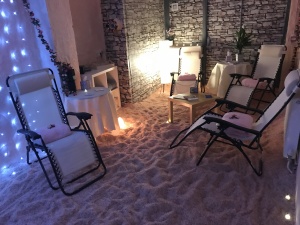 Crystal Clear Salt Cove
Nestled in the tranquil haven of Yoga Ananda Holistic Centre offering halotherapy is Crystal Clear Salt Cove. A specially designed salt cove where you can relax in the peaceful ambience, embrace yourself in a blanket and close your eyes to rest, meditate, listen to music, read a book, enjoy a little mindfulness with colouring therapy or empower your experience with reiki whilst you bask in the aerosolized therapeutic salt atmosphere to aid well-being.
A Little About Halotherapy - Dry Salt Therapy
Halotherapy is a holistic drug free, natural therapy using micro particles of salt to improve breathing, maintain healthier skin, sounder sleep, improve physical fitness, endurance and overall wellness.
Halo is the Greek word for 'salt' and salt is known to be anti-bacterial, anti-inflammatory, mucolytic (loosens mucus & phlegm) and removes airborne pollen and reduces immune system over-sensitivity.
From more than 40 years of research, conducted around the world, shows that treatment with Halotherapy has beneficial effects to help individuals experiencing respiratory conditions from the common cold to allergies to chronic conditions such as asthma, bronchitis, COPD (Chronic Obstructive Pulmonary Disease) sinusitis, cystic fibrosis, ear infections, hay fever, coughs & colds, smoker's cough, viral infections and chronic ear-nose and throat illnesses.
Salt is also extremely beneficial to your skin in treating acne, eczema, general irritation, neuro-dermatitis and psoriasis. It helps to reduce fatigue, stress and aid restful sleep for those with insomnia.
Halotherapy is suitable for both adults and children.
Pregnant. women and those with serious health conditions should consult their GP before receiving halotherapy
Please bring a pair of socks.
You are welcome to play your own audio book or podcast on our music system.
Sessions are for 60 mins. Individual and group sessions are available.
Books of 5 and 10 sessions are also available at discounted prices.
Please contact Vanessa on 07977 117979 for all enquiries or to make a booking. Thank you.
I look forward to meeting you at Crystal Clear Salt Cove