Leanne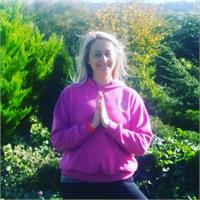 Leanne (Girija) did her yoga teacher training in the bahamas with the sivananda organisation, gaining a 200hr classic yoga qualification.
Her classes include breath work, postures,meditation, and relaxation.
In all Leanne's classes, she offers neals yard organic essential oils to help enhance a mindfull yoga practice.
Essential oils help to calm the mind, lift the spirits and are great for enhancing focus during your practice.
Leanne uses candles in her classes to make the room feel cosy and calm in winter.
Leanne instructs the following:
Yoga classes are open to all regardless of whether you are a beginner or experienced practitioner - they offer a deep reaching series of dynamic and static postures, emphasising the unity between breath and movement. Each class offers a complete Yoga experience, designed to gently stretch and strengthen the body, open the heart and expand the mind. Through practice we learn to release tension or resistance in the body. This has an effect of calming the mind, expanding our awareness and connecting us to an unending source of inner peace. As a result we begin to feel a deep sense of physical freedom and can relax into the flow of life with greater ease. As our flow deepens we begin to live from an intuitive space, a space that is full of clarity and vitality. A space where anything is possible! "It is not enough to simply take a step, that step needs to take us into the right direction and in the right way" - Vinyasa as described by TKV Deskichar