Bernie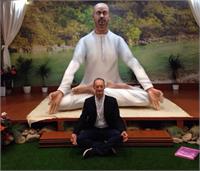 Bernard teaches Classic Sivananda yoga, which includes postures, breathwork, relaxation and meditation.
These Hatha Yoga classes are suitable for all students from total beginners to intermediate level.
Bernard has been practising yoga and meditation for over 10 years and has been a Yogaananda regular for most of that time.
He trained in Theatre Arts and dance using yoga to help keep him supple in body and mind.
Come join him on his journey into yoga.
Bernie instructs the following: