Vinny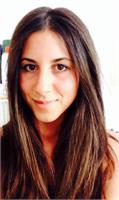 200hr Yoga Alliance Certified.
Discovering yoga through my inspiring Yoga teaching aunt, I was blessed to experience the benefits of yoga practice from a young age.
Studying and working in fashion I moved to London where I was caught up in the rat race indulging in the hectic London life. The attraction of the fashion industry soon revealed it self to me as a far less glamorous reality, I found myself turning to my yoga mat for grounding and an escape. Slowly I found my self on the mat more and more. I began to realise there was far more to life than handbags and shoes (whilst I still find time to appreciate these things), I realised this world I had surrounded myself in was unable to satisfy my soul. I made the decision to leave the hectic city behind me, and focus on my passion Yoga.
Yoga has given me a focus, I am stronger, fitter and more relaxed than I ever imagined I could be and my wish is to share Yoga with those willing to find a piece of grounding in their own lives.
Discovering Ashtanga Yoga has been a revelatory experience for me. I instantly fell in love with the discipline, and challenge it provides and my Ashtanga practice is a practice I will spend my life attempting to perfect.
Vinny instructs the following:
Strong Energising Vinyasa Flow
A dynamic class where we link breathing with movement. Building up heat as we move, detoxifying and preparing ourselves for the week ahead. Throughout the class we build strength and flexibility so that each can support the other and we learn to move freely always listening to our bodies intuition. Be prepared to work hard but leave feeling rejuvenated! See you on the mat!