Helene Walravens (J.K.)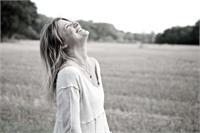 Helene (Jai Kartar Kaur ) was born in Belgium, where she grew up immersed in Nature; climbing trees, playing in fields, playing classical guitar and vocals, playing Yoga.
Born from a Mother with Healing Hands and a Great Sense of the Power of Affirmation and Playfulness she recognises from a very young age the Power of Love in Hands, the importance of Witnessing. ''It feels now that the Connection to the ''Little Voice Within'', to the Creator of All Things. was always there, Available.''
Jai is a qualified Thai Massage Practitioner and Yoga Teacher. She practices a Balance of Thai Massage, Shiatsu, Reflexology and Yoga based on an understanding of the Principles of Nature within the Human Bodies, and throughout all walks of Life. She is an Energy Facilitator and teaches Kundalini Yoga according to the Teachings of Yogi Bhajan ; organises workshops for 'small and big children' and teaches Classical Guitar.
Helene Walravens (J.K.) is currently not instructing any classes.